---
Email remains an essential component of a successful digital marketing strategy. And, as with any marketing effort, it is necessary to have a solid plan in place to land leads and move them through your email marketing funnel.
Before we go into how to create an email marketing funnel that will convert your visitors, let's take a look at a few reasons why it is critical to add email marketing to your overall strategy:
According to research by the Direct Marketing Association, email marketing provides the highest level of ROI, with an average of

$38 per $1 spent

.

A study by

McKinsey & Co.

shows that email is

more effective at customer acquisition

than

social media.

Email ties all your digital marketing efforts together. 

Using automation and segmentation, you can personalize your messaging, which leads to better customer conversion and retention.

Email marketing is measurable, which increases the success rate of retargeting efforts

.
Now that you know why it is essential to incorporate email into your strategy, here's how to create an email marketing funnel:
1. Create an Offer Too Good to Refuse
For a visitor to give up their email, the return must be a valuable exchange, whether it be a free sample, demonstration, or content they can put to use. Following are a few ideas on what to offer:
Provide Gated Content
Gated content is an excellent way to collect targeted leads. It provides valuable information that can help users solve a problem and, at the same time, creates brand authority for your business. Gated content examples include:
Webinars

eBooks

Whitepapers

Cheatsheets

Online industry tool checklists
Give a Free Sample or Service
Offering a sample or service gives the consumer a chance to experience your product or business before purchasing. For companies that provide services, the freebie can include a consultation or a customized demo.
If you sell physical products or downloadable digital goods (games, an ongoing video series, or other digital subscriptions such as online classes), your offer can be a partial sample or level one of the game or subscription. Be sure to provide enough value in the giveaway, so it gives the customer ample experience of your product.
Offer a Coupon or Discount
Special discounts or limited coupons can nudge a prospect directly into the email marketing funnel. Following up with a drip-email campaign will help convert your lead into a customer.
Send a Newsletter
Providing a customized newsletter with content not available anywhere else is an excellent way to generate leads. Using a smart email marketing platform, you can create separate campaigns to target those who interact with your content and are most likely to convert.
2. Set Up a Dynamic, Lead-Converting Landing Page
Now that you know what you will offer, you need a landing page where you can place an email form to collect leads.
A landing page that converts contains the following components:
An impactful headline stating your offer

Subhead that states the main benefit

An image or video that catches the eye and makes your offer even more enticing

A short, bulleted list or caption that gives the details of the offer and lists more benefits

An email signup form

A strong CTA (call to action)
The form should include a minimum of a first name and email field. If you want to qualify your leads, add required fields such as industry and job title. For physical goods that need to be shipped, add address and phone number fields.
Be sure to include a marketing consent checkbox to adhere to any federal and state privacy laws.  If you use contest or sweepstakes to generate leads, there are other legal requirements to consider that vary between states. Social media platforms such as Facebook also have their own rules.
3. Choose an Email Marketing Platform
While it is possible to execute an email marketing campaign manually, it is also time-consuming. To maximize opportunities, use a smart email platform like Mailchimp or Constant Contact to help move your prospects through your email marketing funnel.
I use Mailchimp because it is simple to use and offers a great deal of customization for your drip email campaigns. If you have an eCommerce store, you can connect it to Mailchimp, which easily enables retargeting.
However, there are many other great email marketing platforms from which to choose. I suggest taking several for a test run before you decide. If you already have an account, you can apply the following setup to most platforms.
4. Connect Your Email Form
There are several ways to integrate your email subscription form into your landing page. Most email platforms provide an embed code that you can copy and paste onto your page. If you use WordPress, some plugins integrate with various email marketing platforms. Ninja Forms is a reliable email subscription plugin that works with Mailchimp. Be sure to match fields between your sign up form on your site and your email marketing platform.
5. Confirm Successful Subscriptions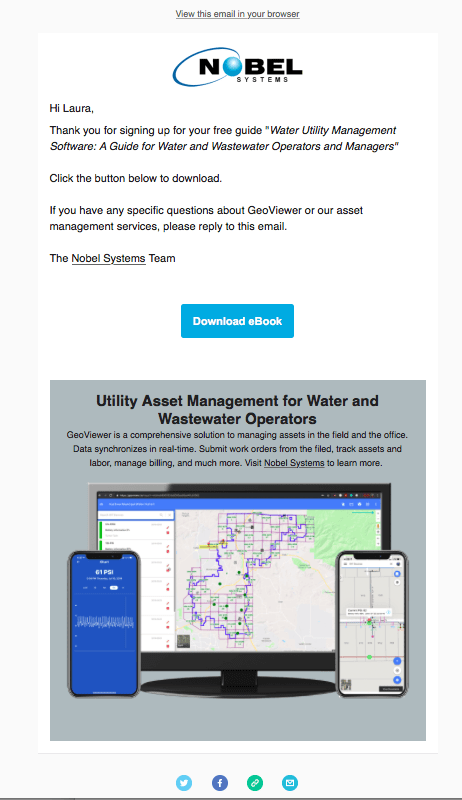 If you give away a digital product, immediately send your lead to a page where they can download the content. Your prospect is promptly rewarded for signing up, and you can quickly follow up with your drip email campaign.
Another tactic is to require the lead to confirm their subscription to your list to receive their download. Your email marketing platform might need this, too, depending on your track record with email marketing and subscriptions. Include a note after a user subscribes, letting them know to look for a confirmation email from your business.
If you give away a physical product, redirect your contact to a thank you page after they successfully subscribed. Include details on when they can expect the free sample. You can also do this for digital giveaways.
6. Create an Automated Drip Email Campaign
After you've landed your lead, follow up with a simple welcome message or a series of emails to move your prospect through the email marketing funnel.
A couple of things to keep in mind: 
Follow up sooner rather than later:

immediately sending a welcome email keeps your brand fresh in a contact's mind. It also gets them used to receiving communications from your business.

Don't overdo it:

bombarding your prospects with too many emails will result in them unsubscribing.

Carefully craft your messaging to reflect your lead's interest

: sending them an email that is entirely unrelated to a whitepaper they downloaded will confuse, irritate, and cause them to unsubscribe.
My blog post, 7 Steps to Create Drip Email Marketing Campaigns That Convert, will help you set up a drip-email campaign.
In Summary
Email remains a staple in generating leads and maintaining ongoing relationships with your customers. Integrated with a solid content marketing strategy, you'll find long-lasting benefits from a well-planned email marketing funnel.
---
Need help creating an email marketing strategy? Book a free consultation today!