---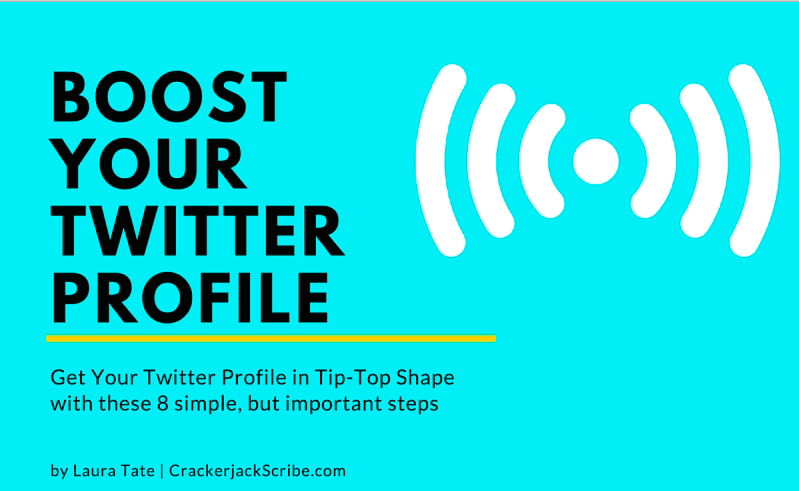 Twitter is one of the easiest and most effective social media networking platforms to use for business. It's one of my favorites to connect quickly with and follow industry leaders and build targeted lists of leads.
However, while it may be easy to use, many Twitter users often overlook important optimization steps when setting up their Twitter profiles.
Here are 8 simple steps you can take to boost your Twitter profile and make the most out of your networking.
1. Upgrade Your Cover
Have a professionally designed Twitter cover photo done, or use an app like Canva if it limits your budget. Whichever you choose, make sure photos are of high quality, and represent your business, products/services. Add your contact information.
2. Use Keywords
Do keyword research for your industry/brand. Use high-traffic, low competition keywords in your bio, username, and in hashtags if there is room. Google Keyword Planner, kwfinder.com, and BuzzSumo are all great keyword research tools.
3. Username Etiquette
Make sure your Twitter handle reflects your brand or company. Use keywords if you can, but your name or the company's is fine. The shorter the better.
4. Link Your Profile
Put a link to your Website, blog or other site in your bio! This is often missed. It is one of the best ways for people to find more information about you and your business.
5. Be Professional
Use a professional, high resolution profile or logo photo. If you represent your business, a personal headshot is best. People like to know who they're talking to.
6. Use a CTA
Put a call to action in your bio and/or on your cover photo. If you don't have a special offer, use the CTA to drive people to your company site, "Visit our Website to find out more about us." Remember to put a link with the CTA.
7. Locate Yourself
If you serve a particular area or your business has a storefront, make sure you fill out location information.
8. Get Verified
Verify your account with Twitter. There are certain criteria, but if you fit them, it's worth the effort. See Twitter's Help Center for more information.
In Summary
To get the most out of Twitter, make sure you set up your profile correctly in the beginning. Follow the 8 steps above and start Tweeting!
Do you have any other Twitter tips to add? Let me know in the comments section below. Thanks!